Amabrush - The 10 Second Toothbrush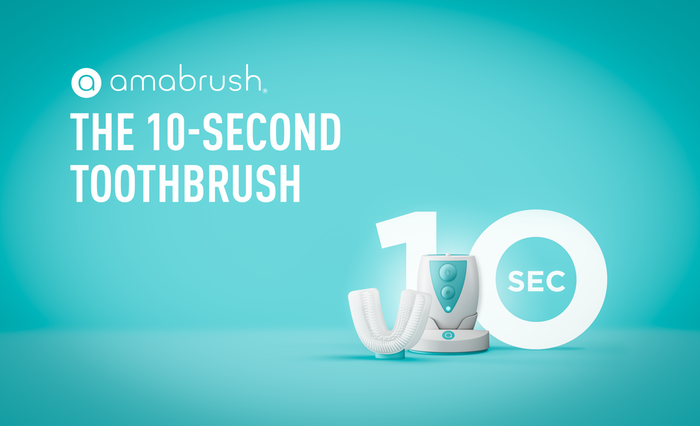 Do you like brushing your teeth? Especially at night when you get ready for bed? Amabrush is the first toothbrush, that cleans all your teeth at once in just 10 seconds! 
| | |
| --- | --- |
| Created by | |
26,832 backers pledged €3,198,516 to help bring this project to life.
Last updated June 13, 2019 
Campaign FAQ Updates Comments Community Share this project
Amabrush - World's First Automatic Toothbrush

 
€3,198,516

 
pledged of €50,000 goal 
26,832

 
backers 
Story
You never have to brush your teeth again!
Amabrush is the world's first, fully automatic toothbrush. This patent pending device brushes all your teeth at once, fully automatic, and finishes in just ten seconds. All you have to do is press a single button, wait ten seconds, and you'll have perfectly clean teeth!
Let's face it: brushing your teeth is not exactly the sexiest thing on Earth. You have to squeeze, scrub, gargle, spit, rinse and floss every morning and evening, every day of your life. Many of us hate brushing our teeth so much that we avoid doing so whenever possible—even though we know we shouldn't... Brushing our teeth at least twice a day maintains good dental health. This is why we invented Amabrush—a device three years in the making with a single goal: to make toothbrushing quicker, automatic, and more efficient so you have more time for the relevant things in your life.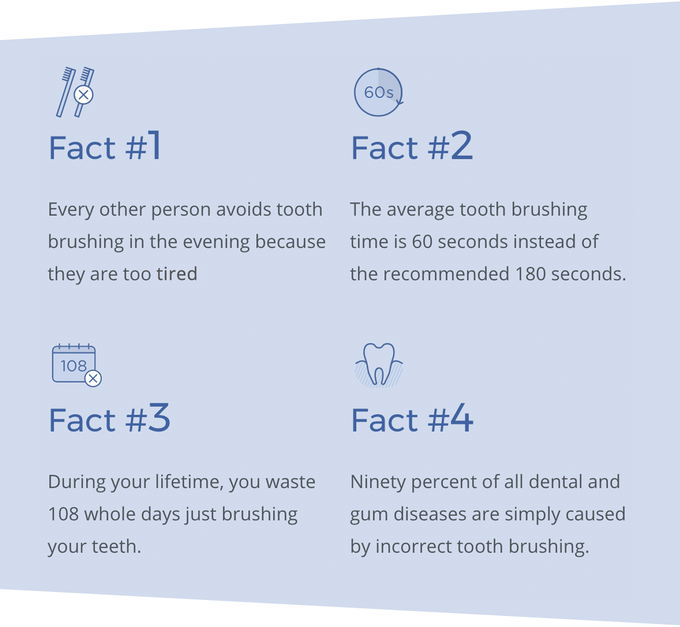 Amabrush is not meant to be better than your regular toothbrush. Wait, what? That's true! Regular toothbrushes (manual and electric) are tools. And tools are only as good as the person using it! The key thing is that most of us use them wrong, or even worse, are not using them at all. 
Brushing teeth is a job where you must be highly concentrated. Toothbrushes should be held like pencils, so that pressure is as light as possible. The bristles should be soft, in order to not damage your gums. And you should just wiggle the toothbrush with subtle vibrations, instead of doing long strokes. Electric toothbrushes are handled differently than manual ones. With them, you shouldn't stroke at all. These toothbrushes are designed to be held in place, so that the micro vibrations of the bristles can do their job (they wiggle for you).
Amabrush covers all of the recommended methods. The bristles are aligned in a 45° angle against the gum line, and are soft enough in order to rub instead of scratch (like nylon bristles). And the pressure against your teeth is light. Subtle vibrations move the bristles back-and-forth, which allows them to remove plaque and keep your gums undamaged.
Amabrush is for people like us - who just brush their teeth because they have to, and not because they want to.
Amabrush was designed to make toothbrushing less annoying. Some of us hate toothbrushing so much, that we brush not concentrated enough, not long enough, not good enough, or not at all. And some of us simply can not brush correctly at all, because they are not able to do so. It is still under development, and currently for people with healthy gum and teeth. This is our goal. Right toothbrushing for everyone and automatically!

Amabrush is made out of three parts:
The Mouthpiece

The Handpiece

The Toothpaste Capsules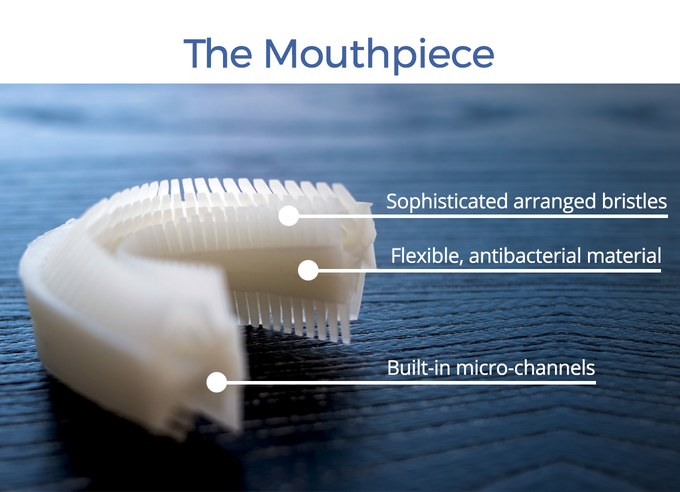 Antibacterial Material
The flexible mouthpiece has built-in micro-channels that transport the toothpaste to your teeth. The mouthpiece is made of antibacterial silicone that kills 99.99% of all bacteria and features 3D-arranged bristles on both sides to clean your teeth. It's soft enough to prevent gum damage but strong enough to clean your teeth precisely. It can be cleansed by normal rinsing, as you would do it with regular toothbrushes.
Brushing Technique
The bristles are directed in a 45° angle against your gingival cuff. This simulates the Bass method, which is recommended by dentists and experts. The bristles are comparable to soft-bristled toothbrushes. This ensures the most comfortable, safest toothbrushing and makes gum-damage impossible. We work closely with dentists and dental universities to address two concerns: clean teeth and no gum damage.
Single Size
We analyzed over 2,000 different jaws from adult females and males. The small difference between both genders is smoothed out by the flexible material of the mouthpiece. The used material has the characteristic to fit every jaw with no abnormal teeth displacements.
Replacement
As with regular manual toothbrushes and electric toothbrush heads, the mouthpiece should be replaced every 3-6 months. Many studies prove that used bristles are not as effective in terms of plaque removal, as new ones. A single mouthpiece will cost €6.
Electronics
The handpiece contains all of the complex technology. It creates strong vibrations with an amplitude of 9.5G to oscillate the bristles and clean your teeth. A clever algorithm ensures the generation of different vibrations. This results in a coordinated movement of the bristles, which are designed to have different resonant frequencies.
10 Seconds
Amabrush can brush your teeth in just 10 seconds, because all your teeth are cleaned simultaneously. Even in this 10 seconds, every tooth surface is cleaned longer compared with common toothbrushes. If you brush your teeth for the recommended 120 seconds with a regular toothbrush (manual or electric), every surface gets brushed for just 1.25 seconds (given the fact that you have 32 teeth and every teeth has three surfaces). Amabrush brushes all your surfaces for whole 10 seconds. This means: every tooth surface gets brushed 8x longer and the total toothbrushing duration is 12x quicker.
Pump, Battery & Charging
A built-in mechanism foams and delivers the right amount of toothpaste to your teeth, and the integrated battery lasts for 28 sessions of toothbrushing. So if you go on vacation without the charging station, you can brush your teeth for at least two weeks twice a day.
The handpiece also comprises a low-energy wireless charging module (Qi). So yes, you could even use your wireless smartphone charger to charge Amabrush.
Sharing
A magnetic connection on the handpiece gives you the opportunity to use Amabrush with different people. Simply put the mouthpiece near the handpiece, and the strong magnet will automatically do the rest for you. We were told that "it really works like magic," and we think the same.
Notice: if you want to share Amabrush with different people, you just need a single handpiece! Everyone needs their own mouthpiece, but you don't have to get a separate handpiece for every person!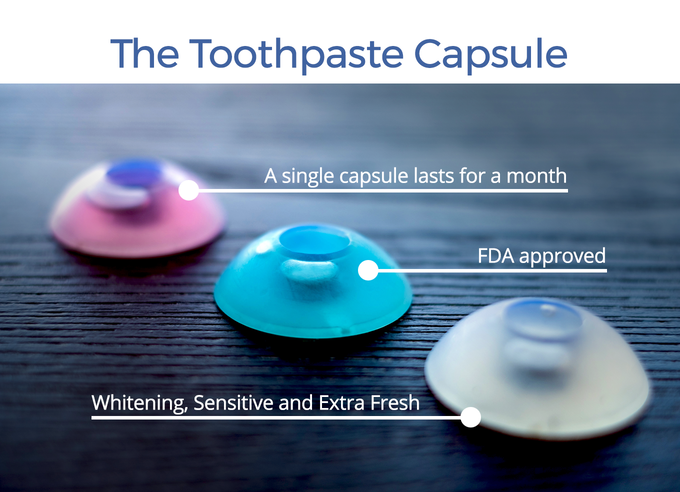 Replacement & Varieties
The toothpaste capsules are simply placed into the handpiece, automatically providing the perfect amount of toothpaste each time you brush your teeth. A single capsule lasts for more than a month, costs €3 and is available in three different, FDA-approved varieties: Extra Fresh (blue), Whitening (white) and Sensitive (rose - without fluoride). The toothpaste is specially formulated as it needs to be more liquid than regular ones.
Manufacturing
The toothpaste is formulated and produced by a major toothpaste manufacturer with a history of over 100 years. This manufacturer fulfills the quality norm DIN EN ISO 13485 and the requirements of IFS Household and Personal Care Products, and was one of the first manufacturers in Europe retrieving the IFS-HPC certificate.
Magnetic Connection
Toothpaste Foam
Magnetic Connection
Video of using Amabrush prototype. Plaque was buildup on teeth by not brushing them for 30h. This is not meant as a proper clinical trial or plaque test, but as a demonstration of brushing teeth with Amabrush.
Amabrush with Wireless Charging Station (included in Amabrush Pro packages)
Further questions?
Please feel free to contact us any time via email or Facebook.
Please choose your package on the top right of this page.
USB-C instead of micro-USB! We got this request really often, and we too think that this is a great way to build Amabrush with top-notch technology right from the beginning. Many of you demanded such an upgrade, and your request is our command!
Furthermore, we will offer a lid with integrated UV light as an add-on. This protects the mouthpieces of Amabrush from dust and other environmental influences, and sanitizes the mouthpieces with UV light. This is able to store and sanitize two mouthpieces. This is an accessory for the mouthpiece-storage-attachment (that comes included in the pro version). It features a door with a hinge, a mirrored interior panelling in order to get the most out of the UV lamp, and is a great addition in order to keep Amabrush hygienic and clean. You can add the add-ons to your order after the campaign ends.
Choose between various different add-ons. The images above shown are for illustration purpose only! We'll offer a traveller case in order to store your Amabrush conveniently and hygienic when you are on vacation. Furthermore, our charging station will be modular. That means, if you use Amabrush on your own, you can simply detach the mouthpiece slots that are designed to store additional mouthpieces. All pro versions come with a charging station and two slots included. What's more, we will offer a tongue cleaner made out of the same antibacterial material, in order to keep your tongue smooth and clean. You can find additional details and choose these items after the Kickstarter campaign.
You requested this, we deliver it. All Amabrush units come equipped with a sound and light indicator, that is able to signal various different information about the current battery status, finished toothbrushing sessions, errors and other scenarios! Furthermore, we'll offer our specifically formulated toothpaste in big bottles, along with more durable and stable refillable toothpaste capsules. This will save shipping fees and total cost for you. Please have a look at our add-on section below the reward section for further details.
Your request is our command! We will integrate Bluetooth to all of our rewards at no additional cost. With our Amabrush App for iOS & Android, you are able to connect to your Amabrush unit and make use of various possibilities. You can set different vibration modes (gum massage, whitening, burst mode, ...), configure cleaning time, reorder replacement parts and do many things more!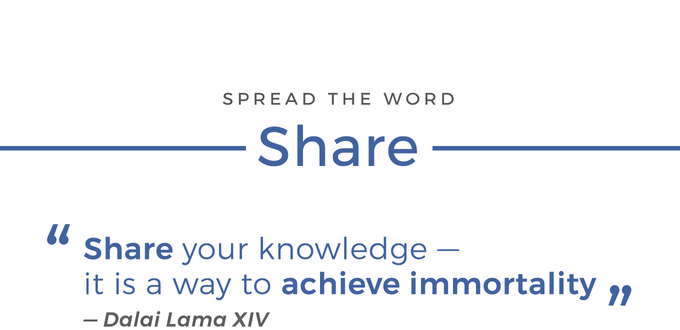 We truly believe in Kickstarter as a platform, where like-minded entrepreneurs and early adopters bring together innovative, disruptive and sophisticated projects to life. We already supported a dozen projects from other people on Kickstarter on our own.
Amabrush is a completely new device and needs to be "understood" in the first place. Kickstarter connects us with people like us; fact-interested, early-adopting and technology-enthusiastic people.
Amabrush needs your help to fully come to life. Prototypes and pre-production units were financed by ourselves. But the time has come, that we currently face high upfront expenses regarding tooling, certification, studies and minimum quantity purchases. 
We strongly believe that we've created a product that many people are craving for, ourselves included. Without your support, we can not achieve the vision of future oral care.
We do also highly appreciate every feedback and requests regarding Amabrush. If you have something you want to share with us, please feel free to write us any time at feedback@amabrush.com
We came up with the idea of an automated toothbrush, simply because we are annoyed by brushing our teeth. Standing in front of the mirror for at least two minutes twice a day, was not really satisfying for us.
Marvin Musialek, the founder, came up with the first prototype in 2015. Together with Martin Forstenpointner, a talented mechanical engineer, and Alexander Stummer, a sophisticated biomedical engineer, we brought the project to life. Advised by Dr. Hady Haririan, a professional dentist and member of the Medical University of Dentistry in Vienna and Austrian Society of Parodontology, we developed and tested Amabrush to the form it represents now. We've established an enthusiastic and interdisciplinary team, and we work closely with medical universities, dentists, and a lot of test customers, in order to make Amabrush as perfect as it can be. We are supported and funded by the Austrian government, private institutions and the European Commission. 
Our core team:
We at Amabrush love high quality products. They are durable, simple and "just work". We are proud to say that Amabrush is designed, developed and produced in Austria, Germany and USA. This ensures high quality, quick development and low delivery costs.

Risks and challenges
One part of Amabrush is highly complex; the mouthpiece. Such a form is not available on the market, as it is build out of a single material and the sophisticated arranged bristles can not be produced by every random injection molding company. We have a close dialog with our suppliers, who have a lot of experience with such complicated structures, and we implemented their feedback early into our development process.
Despite that, we kept the internal parts simple. This allows us to develop quickly, and to choose between various different suppliers.
Our team has a very strong background in management, product design and mechanical engineering. We have already defined our manufacturing flow and our sourcing of the various different parts. Not only this, but we are also in talks with several manufacturers for every part of Amabrush. This allows us to scale production and logistics accordingly, even if we encounter high demand or supply shortage.
We believe that we will start shipping Amabrush to our first supporters in the pilot-tester section in October 2017.
---
Mit der DNA Rassenbestimmung von DoggoDNA können mehr als 360+ Rassen in Ihrem Hund erkannt werden. Dadurch lässt sich ein genaues Profil Ihres Hundes erstellen, welches hilfreich für die perfekte Abstimmung des Trainingsplans sowie des Ernährungsplans ist.
Mit dem DNA Test Hund von doggodna.com können Sie die genauen Rasseanteile Ihres Hundes einfach und günstig testen.
---
Funding period
Jul 5 2017 - Aug 5 2017 (30 days)
EnglishDeutschEspañolFrançaisItaliano日本語繁體中文😃 ❤️ 🔥
€  Euro   (EUR)$  Australian Dollar   (AUD)$  Canadian Dollar   (CAD)Fr   Swiss Franc   (CHF)kr  Danish Krone   (DKK)£  Pound Sterling   (GBP)$  Hong Kong Dollar   (HKD)¥  Japanese Yen   (JPY)$  Mexican Peso   (MXN)kr  Norwegian Krone   (NOK)$  New Zealand Dollar   (NZD)kr  Swedish Krona   (SEK)$  Singapore Dollar   (SGD)$  US Dollar   (USD)